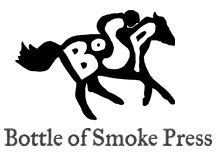 About BoSP
Letterpress & Binding Services
Site by


Bottle of Smoke Press was founded in 2002. Our goal is to publish books that will be well received and enjoyed by those who read them. We publish works by new poets as well as by well-established poets. Our only requirement is that the work be interesting and important. We are proud to have worked with some of the giants in the small press scene and to have also published many new writers and artists whose work is no less incredible.

We are not currently accepting submissions.
In addition to our own releases, we have started printing and binding broadsides and books for other presses. No job is too large or too small. Please see
Letterpress & Binding Services
for some samples of the work that we have done for other presses.
Please feel free to e-mail me with any questions. I can be reached at bill@bospress.net.