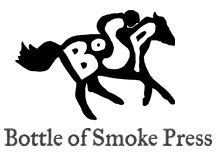 About BoSP
Letterpress & Binding Services
Site by


Reviews for Charles Plymell's
TENT SHAKER VORTEX VOICE

Tent Shaker arrived today. First of all it is well designed and attractive and meets every priority that I could imagine you want in a book for the ages. And I do believe that Tent Shaker Vortex Voice is "yours." It has all the hallmarks of being a magnum opus, particularly in respect to the "voice" as rendered in the work. It is a unique voice in the sense that it could only belong to Charley D. Plymell; and in fact, it does belong to him and to no one else. There may be those who want to gloss over the rhetoric as being strange and difficult for them ..... I'm sure there will be. But there will be more who instantly recognize that there is more to be found here than there is to be found in the "golden tablets." Much more. It sings with pain and awareness while it strums a clear melody of love for that which is evanescent as well as that which is non-perishable. Few could read Tent Shaker Vortex Voice without experiencing the dynamism of the experience of a segment of America that has never had a real voice. Now the Plains will be examined with more attention and mined for better gold than ever before. Thanks for this testament.
--Roxie Powell
I say this in all honesty. It is one of the most beautiful I own. Even the blank pages are beautiful. Add Charley's words....just wow. Perfect read for the end of the world ... Tent Shaker is stunningly beautiful both in its construction and its words (albeit haunting).
--Johnny Gee, The Clubber Lang Gang
Tent Shaker Vortex Voice is the best thing I've read in a long time! Love the images in that thing too!
--Tony Moffeit
Charles Plymell's TENT SHAKER VORTEX VOICE is brilliant, capturing something elemental in existence with line after extraordinary line, such as: 'The children knew to lie flat in the gullies/of rattlers giving warning to soft moccasins/unlike poison of a God-fearing ministers....' In scope, this is a work worthy of comparison to Hart Crane.
-- W.K. Stratton, author of FLOYD PATTERSON and DREAMING SAM PECKINPAH.