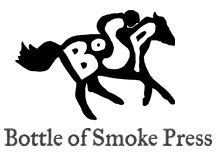 About BoSP
Letterpress & Binding Services
Site by


PRAISE FOR CLAUDE PELIEU's KALI YUG EXPRESS
Review by Byron Coley & Thurston Moore




Dear Bill,
Thank you thank you thank you. A belated thanks & one long overdue. Anyway, I've had a look at the clamshell box and I want to say that it's an exquisite job; the best of the best in craft & quality. Impeccable in every respect. Congratulations, now & ahead.


Best regards, Gerard (Malanga)
Kali Yug Express is immortal!
--Tony Moffeit